Welcome to Jane Goodall Class (Reception)
Reception Class is taught by Mrs Greenaway.
She is supported by Mrs Fowler and Mrs Norris .
PE is on Fridays.
Please make sure all your child's belongings are clearly labelled.
Please always send your child to school with a coat as we spend a lot of time outdoors.
The children have helped Mrs Fowler create this lovely reading area with chimpanzees. They are really enjoying learning about Jane Goodall!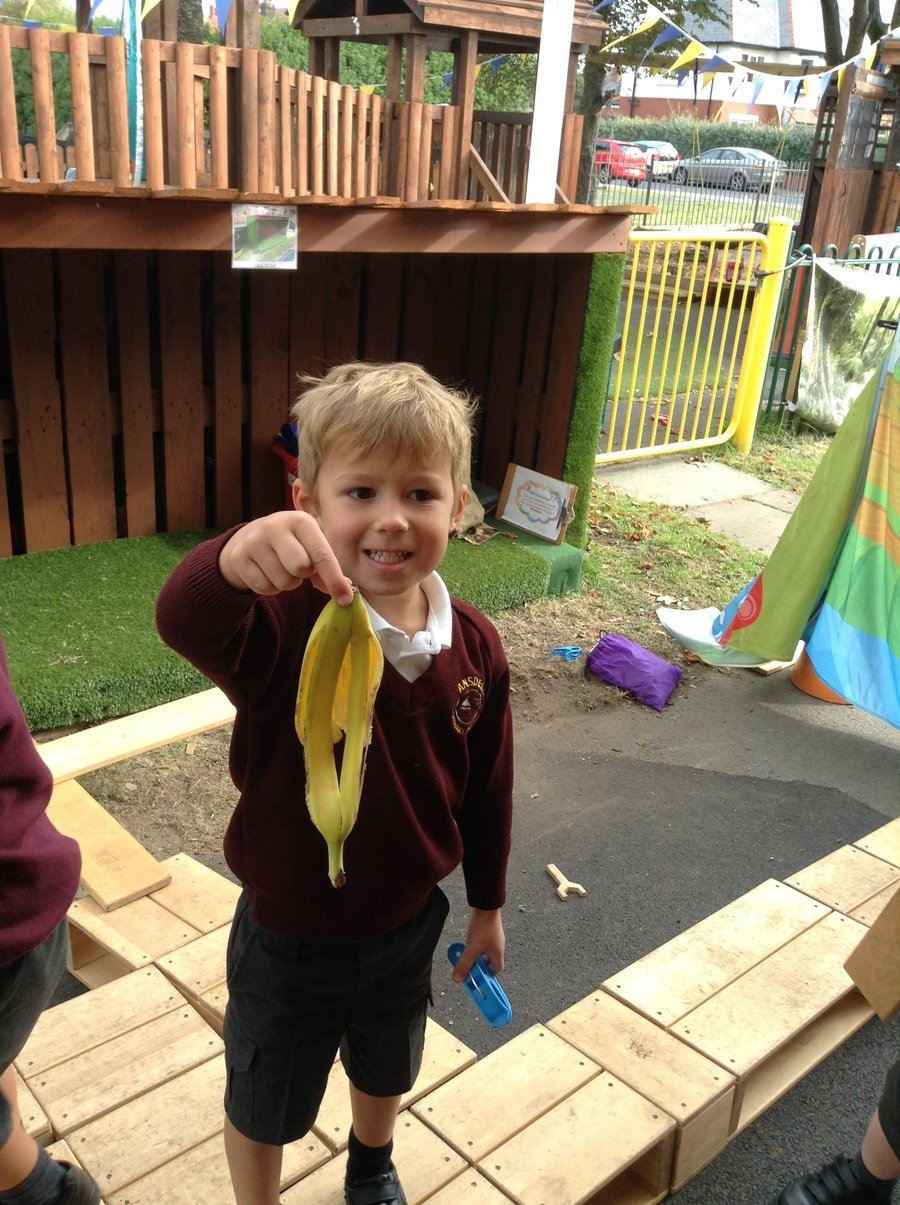 The children think the chimpanzees have been in our outdoor area. We found a banana peel on top of our den!
Reception are having lots of fun exploring Autumn, learning about Jane Goodall and getting to know the other children in the class.
This week we have started phonics! We have looked at 's' 'a' 't' 'p' and high frequency words 'a' 'at' 'as'. In Maths, we have introduced our number of the week and this week it is number 1! The children have loved finding 1 in lots of different ways and they have enjoyed paying for their fruit with 1p coins.
Wow! What an amazing first week our Receptions have had. The children have had a fabulous attitude and have come in to school each day with a big smile on their faces. We are very proud of all of them! They have enjoyed exploring their new classroom and have loved being outdoors. I am sure they have had lots to talk about at home and we can't wait to see them in full time next week.
We would like to thank you all for labelling all of their belongings as this has made each day run smoother.
A quick reminder - If you wish, your child can bring in one healthy snack each day for play time (apple, banana, carrot sticks etc). Please make sure it is named.
Thank you.
On Monday we visited Fleetwood museum. We had a lovely time and learnt so much about how people used to live. We all loved the Punch and Judy show and enjoyed dressing up as Victorian children. What a great day out!
We had a great time visiting the Co-op today. We enjoyed spending our £1 and had a lovely walk in the sunshine.
.We had a great time on 'World Book Day'. We enjoyed dressing up as our favourite book day character and reading stories with our buddies.
We have had a fun day making pancakes and then eating them! We all thought they were delicious.
We had a visit from Firefighter Wilkinson. He told all about his job as a firefighter. We then created a fire station, role play area, and made a fire engine. We have been busy putting out pretend fires!
We have had an exciting week learning about World War 1. On Monday we visited the War Memorial in
St Annes which was very interesting. We loved the journey on a double decker bus and behaved very sensibly. On Tuesday we had a workshop with a soldier who did role play with us and had lots of artefacts to show us - it was fascinating.
We read a letter from a soldier called Will who fought in the war. He was writing to his younger brother who was left at home with his parents.
On Friday we had an assembly where we showcased our work from the week.
Welcome to our new Reception children. We had a lovely week.