Lancashire School Games
Fantastic day at the Lancashire School Games. Team Fylde, Louisa Hardie, Abbie Warburton, Lucy Wane, Charlie Kells, Alfie Haydock and Jasmine Sookey-Garnett competed against 15 other schools. They had to complete a vault, a floor exercise and a body management routine. The top 4 scores from each apparatus were added together to make a team total. The children competed well and supported each other. Unfortunately a few little mistakes kept us out of the medals and we finished a creditable 5th.
Gymnastics - Great results at the recent Key Steps competition held at Garstang School of Gymnastics. 2 teams were entered into the competition, which was for years 3/4. They were all brilliant especially Eve and Angus coming in as reserves with limited practice. Team 1 won and will go on to represent Fylde at the Lancashire school games and team 2 came 3rd.
Well done to all 3 teams who competed in the North West floor and vault competition at Walton-le-Dale High school. Everyone competed at their very best and I was impressed with their attitude and exemplary behaviour. Results to follow.
..
Gymnastics competition
On the 29th of January 2016 three teams from years 3, 5 and 6 went to Walton le Dale High School and took part in the Wyre and Fylde gymnastics championships. Some of the members competed in floor and vault and all members showed off their talent in a group routine. All teams came back with a medal, Girls A team achieved bronze, thanks to, Imogen, Keziah and Kirsty. Girls B team also did very well as they were awarded with the silver medal because of the amazing performance by, Martha, Freya, Kate and Penelope. The mixed team also came back with bronze medals thanks to all the hard work, Alex, Isabella, Sammy and Amy, put in. None of us could of done it without the amazing help from gymnastics coach, Mrs Welch. Both the mixed team and the girls B team are going ahead to the national finals.
By Imogen H and Alex C.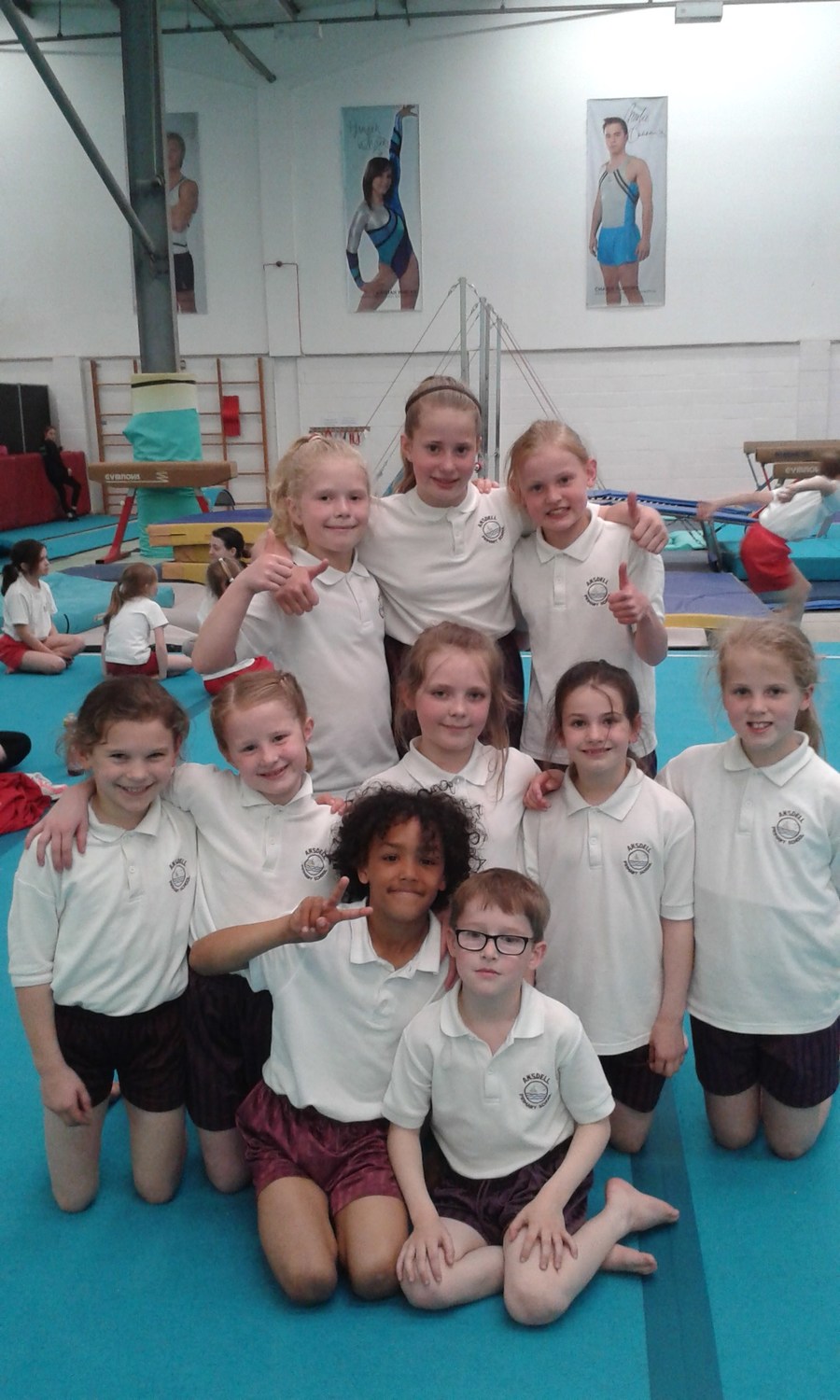 Great success for our Year 3 and 4 key steps gymnasts.
On Wednesday May 6th an inter schools gymnastics competition was held at City of Preston Gymnastics Club. Each school in Fylde and Wyre were asked to enter a mixed team of 5 novice gymnasts from years 3 and 4. Children who were more advanced could enter as individuals.
Ansdell entered a team: Ben, Theodore, Amy, Fleur and Freya, Reserve Penelope and 4 individual girls; Hannah , Grace, Lucy and Kate. The team won and became Fylde champions for the 3rd consecutive year. In the Fylde and Wyre competition they also won the trophy for best team and will now go on to represent Fylde at the Lancashire school games on 30th June. Our individuals competed exceptionally well taking all 3 medals and have also qualified to compete in the Lancashire school games.