Welcome to Yr6 2017/2018
Yr6 is taught by Mr Hoiles who is supported by Mrs Simpson.
Please click below to find out about the Yr6 curriculum.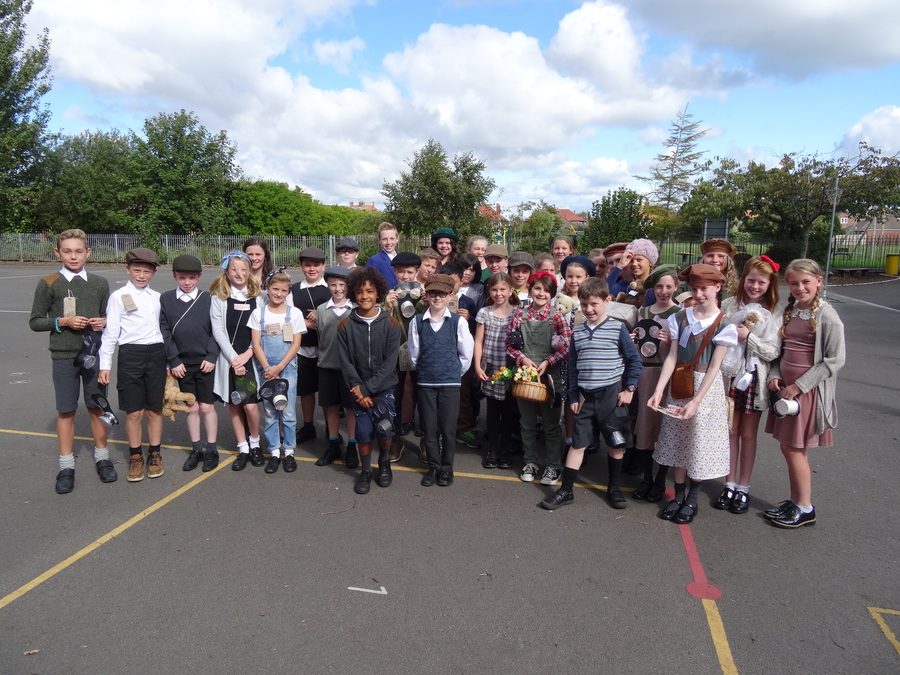 20th July 2018
Can't quite believe the year is over. This group of children have been absolutely fantastic, I am so proud of what they all have achieved. Good luck year 6, thank you for being wonderful and I will genuinely miss you.
Great Tower Residential
Well done to everyone in Year 6 who went to Great Tower, it was wonderful to them all enjoying greater independence, developing friendships, team work and making great memories. We were also blessed with great weather for orienteering, the gauntlet, leap of faith, rock climbing, ab-sailing and canoeing, just a few of the exciting daytime challenges.
18th May 2018
Wow, what a week, what a wonderful week. Well done Year 6, you have done your school proud. You have behaved brilliantly all week, demonstrated a superb attitude and, most importantly, tried your best. I couldn't have asked for anything more. Well done!
Now with SATs complete and after enjoying a well-deserved afternoon on the park, we can now focus on our forthcoming challenges. Today, with the help of Mrs Heywood, we started going through the script and made a fantastic start to Shrek. Diva Dragons, narrator and baby ogres, all coming together.
This afternoon we spent some time with our buddies and helped them release the butterflies that they have looked after and watched grow over the past week.
Finally, and in true British style, to celebrate the Royal Wedding, we attended a street party lunch, adorned with flag waving and bunting. Lovely.
Well done again Year 6, a great week! Sports week next week…
4th May 2018
This week we finished our work on the Three Little Pigs (based upon the Guardian advert). This culminated in the children becoming defence lawyers and writing an argument to defend those poor little pigs from being found guilty of the murder of the Big Bad Wolf. This was a fascinating piece of work, that brought up some interesting theories, new vocabulary and concepts and divided opinion.
Please find a link to the advert https://www.youtube.com/watch?v=vDGrfhJH1P4
Also in English, we have been looking at spelling rules. The children have been researching certain rules and have created some excellent posters to help us remember them.
In Science, we finished our work on classification and can now move on to evolution. We have continued our work in ICT on our programming skills and this week created scripts to draw images in Scratch.
Mrs Heywood visited us this week and the children have been thinking about their characters and how to portray them. Finally, the talented Mrs Stevenson popped in to start designing and making some of the varied costumes… Sneak preview below.
27th April 2018
Our revision work has continued and we have covered so much in the past week. Well done Year 6! However, Year 6 is not all about SATs and we have been up many other things too.
In Science we have continued our work on classification. We have been learning how to identify animals using classification keys and this has culminated with us creating our own key to identify different plants in the playground from their leaves.
In English we have been looking at an alternative version of the Three Little Pigs. In this story, the pigs are arrested for the murder of Mr. Wolf which has created plenty of debate. We have also been looking at where we get news from, its trustworthiness and how bias and opinion is included.
To finish, in Art we have been learning how to draw to scale and how adding shadow can create depth.
The parts have now been finalised for the end of year play and shared with the children. Scripts should be available next week. Can't quite believe we are now talking about the end of the year, however the children are very excited about this production and have a great attitude to make this the best yet!
13th April 2018
This week in Year 6 we have started to revise for our upcoming SATs tests. We have read some varied texts and have learnt about the Commonwealth Games 2018 and the life of Anne Frank. On Wednesday we completed another independent write, this time writing an opening to our Replay story.
In Maths we have revised place value and statistics and have also been practising reasoning skills. In Science we have started our new topic of classification and produced some posters on the five kingdoms and the wonderful MRS NERG.
23rd March 2018
Can't quite believe that we have finished another term and we are now heading into the summer term. This year is flying by.
In English, we completed our work on flashbacks, with the children producing some excellent work. As part of our independent writing, we also produced a newspaper article based on the strange going ons of flying frogs in a small town in America. The work was based on the book Tuesday written by David Wiesner, and video by Paul McCartney, please click on the link to view the story.
https://www.youtube.com/watch?v=IV5LOHdrdP8
In maths we have revised shape, time, time tables, Venn diagrams and reading scales, additionally we have also been unpicking and solving multi step problems. In science we completed our work on the circulatory system and produce some great information leaflets on blood. We have also written up our reports on the lung capacity experiment and also managed to input the experiment data into Excel allowing us to produce some fancy graphs.
These past two weeks have been a busy time for sport. Some children represented the school in a tag rugby festival last Thursday and with the help of Mr. Connell performed brilliantly. This week we have competed in two football tournaments and a netball rally. To top it all, some children took part and won a dance competition.
Well done to everyone who has taken part, behaviour has been excellent, effort has been faultless and you have been a pleasure to take out.
2nd March 2018
It's been a lovely week in Year 6 where we have been celebrating book week. Working from the book 'The Colour of Home' Year 6 have created some wonderful and varied work. We have produced:
new front covers;

written blurbs;

made a list of the top 15 words to get by in English – with food, hungry, drink and toilet finishing high on our list;

created some henna tattoos;

learnt about refugees;

looked at geographical locations, coordinates and longitudinal and latitudinal lines;

and finally, to finish book week, we spent some time reading with our buddies (see some pictures below).
We have continued to learn about the circulatory system in science and have been measuring our long capacity and pulse rates (although some have proved harder to find than others). We have also been investigating what impact exercise has on our circulatory system, in particular the heart and lungs.
To top it all, this morning we managed to squeeze some time in with Mrs Heywood in preparation for our Year 6 play and took part in a drama workshop. Some standout performances and wonderful adaptations of famous fairy tales. Well done Year 6!
9th February 2018
Although a short half term, it's been a busy one, where the children have achieved so much. This week we have been learning about volume and order of operations in maths. In English we have been identifying flashbacks in movies and progressed to texts. We also managed to fit in a Big Write, where the children have produced some excellent stories with some great description. A pleasure to mark. Additionally in Science we have been learning about the role of the lungs in the circulatory system.
With it being mental health week, we have been discussing what similarities we have, but also what makes us unique and special and produced some lovely art work. We have also discussed our feelings, what we can do to help manage these feelings and the the importance of activity and nutrition.
Well done Year 6! Have a lovely break, you deserve it.
2nd February 2018
Wow, this week has flown by. In year 6 this week, we have sat our mock SATs. Well done to al. the children who really tried their best. Although this has taken up a significant amount of time we have also squeezed in plenty of work.
In maths we revised the area and perimeter problems that we had last week and in English we have been looking at figurative language, in particular identifying and writing with personification.
We also managed to complete our evaluations of our recent D&T project and start our new Science topic on the respiratory system. Please may I ask that if you have any used kitchen towel tubes please could you send them in. Thanks
26th January 2018
This week in Year 6….
In English, we have been learning how we can infer meaning from images and description. We have also been learning how to find evidence to support our points.
In maths, we have been learning how to convert metric measures and started work on perimeter and area of compound shapes.
Today, we finished our work on our Super Suckers, the children have had to work hard and I have been impressed with the quality of the products and their suction ability. Through this project, the children have learnt how vacuum cleaners and hairdryers work, how to make their circuits work and apply their electrical knowledge. However, they have also learnt the importance of teamwork, resilience and adaptability, important lifelong skills.
19th January 2018
With Christmas now a distant memory, Year 6 have had a great week. In English we have started our work on narrative and have been looking at how authors describe settings. In Maths we have continued our work on statistics, looking at line graphs and learning how to interpret and draw pie charts.
In D&T we have made great progress in designing, building and evaluating our super suckers. We now have two working prototype models that we will be finishing them next week. Also this week we had a visit from the fire brigade, who talked to us about their varied jobs, fire safety and when to use 999.
Congratulations to our winning cricket team who beat Heyhouse in the final to win the local indoor cricket tournament in Blackpool. Also well done to our boys football team, who played brilliantly today in a tournament in Fleetwood. Unfortunately we didn't win this time, but finished in third place after narrowly losing out on penalties. Unlucky boys, so close. You now owe Miss Bradley and your parents who took you a big thank you for their support and braving the elements.
12th January 2018
Booths Award - Aidan Williams
Well done Aidan, keep it up!
Happy New Year!
Year 6 are back and in business and have enjoyed a really good week. In English this week, we completed our biographies. Some great research from the children and fascinating stories shared. Most are now typed up and the children will be able to return their completed work to their subjects next week. A big thank you to all the parents, grandparents, aunts, uncles and family friends that took part.
In maths we have been learning how to calculate the mean, mode, median and range. We have also been grouping data into frequency charts and tables and constructing and interpreting conversion graphs.
In PE, we braved the elements and managed to get outside to start playing tag rugby. In topic we picked up our work on our hoovers and have been creating circuits and testing propellers for suction.
On Wednesday afternoon, we had a visit from a local magistrate, Mrs. Redcliffe. She taught us all about the job of a magistrate and the workings of their court, different aspects of the law and the difference between a crown and a magistrate court. A fascinating afternoon for all of us.
21st December 2017
I can't quite believe that it is Christmas already! A long term, but a great one. Everyone has worked so hard and should be proud of their achievements.
From a dog show to dancing, singing to sax, this years Ansdell's Got Talent has certainly impressed. Well done to everyone who took part and congratulations to Halle and Libby who won this years competition with a wonderful dance routine.
Our week culminated in our church service this morning. Great job Year 6, you performed brilliantly and the shepherds didn't disappoint.
Wishing you all a restful and happy Christmas, roll on 2018.
15th December 2017
As a another busy week flies by, this week we have sorting biographic information into sections. To do this, we were luckily enough to interview Mrs Welch about her life, career and plans for retirement. A fascinating and revealing experience for the children (and myself ) who really revelled in asking her questions and learning so much about her early career, achievements and childhood antics. You'll have to ask her why we renamed her Mrs Squelch! Thank you Mrs Welch!
In maths we been learning about ratio and applying this knowledge to solve ratio and proportion problems.
On Monday we were invited by KS1 to watch their production of Hoity Toity Angel, which we thoroughly enjoyed. Well done Infants. We finally managed to finish our artwork inspired by the work of Andy Warhol and have continued our preparations for our church service for next Thursday. Hope to see many of you there!
Next week is Ansdell's Got Talent, Christmas Party and the KS2 Nativity. It is going to be busy!
8th December 2017
With Christmas fast approaching, our practise for the nativity / church service has begun in earnest (with some promising performances from our shepherds) .
In English we have been watching documentaries and making notes, with the objective to identify key information so that we can report on it later. In maths we have been ridiculously busy and have been converting decimals to fractions to percentages, finding percentages of amounts, how to multiply and divide fraction and finally how to calculate proportion of amounts.
This week we finished our work on electricity. We are now applying our knowledge and learning to see if we can design our own mini vacuum cleaner using a motor and a small plastic bottle.
Finally this week, we made some festive stocking decorations for the tree ready for our enterprsie table at the Christmas fair.
24th November 2017
This week in Year 6…
In English, we have continued our work on biographies, focusing on scanning a text for key information, identifying technical language and finding information about a person that is not in chronological order.
In maths, we have cracked how to compare, order and find fractions of amounts. Well done Year 6!
In Science, we have been experimenting with electricity and circuits. We have built circuits, followed circuit diagrams and read instructions to produce some (rather noisy) sound effects. This culminated in two of the groups building their own transistor radio. Well done to Lily, Shannon and Autumn who managed to tune into a very crackly BBC Radio Lancashire.
Last but not least, today the children have produced some amazing written work about the D-Day landings. We learned about the significance of D-Day and discussed how soldiers would have felt as they left their advancing boat in Normandy and headed into battle.
17th November 2017
Another busy week in Year 6 draws to a close.
On Monday, we started our new science topic - electricity - and we discovered that we are all conductors by making our own human circuit.
On Tuesday, we visited the Lytham Cenotaph to see the War Memorial and the tributes. We paid our respects and every child laid a wooden poppy cross, with their own message of remembrance.
On Wednesday, we studied biographies and on Thursday we finished our class novel. Today, while sporting some spectacularly funky hair styles, we added and subtracted fractions and enjoyed a Power of One assembly, in support of Anti-Bullying week.
And if all that wasn't enough, our athletes celebrated a win at the Lytham St. Annes Schools meet in Blackpool and some of our Year 6 girls raised an impressive £107 for Children in Need by holding a bake sale. Well done to you all !!
10th November 2017
After a restful week with half term, Year 6 are now back and up running. In maths we have started looking at simplification and equivalent fractions, lowest common multiples and highest common factors. Adding and subtracting fractions next week!
In English, we have continued to study our class book and are now looking forward to completing the compelling final chapter next week.
In ICT, and after a few technical hitches, we have finally finished our podcasts on WW2. The children have worked really hard to produce these and below are a few examples for you to listen to.
Over the past two school weeks we have been lucky enough to visit the Science laboratories at AKS. The children had a number of scientific opportunities and challenges that included separating salt from rock salt and looking at the cell structure of pond weed under a microscope.
Today the children presented their Remembrance Assembly to the school, parents and grandparents. In the assembly they shared their thoughtful, reflective and moving work and performed a wonderful rendition of 'Read all about it'. Well done Year 6, a wonderful job!
Please see below to view just a selection of the wonderful poetry that has been written.
27th October
This week we have celebrated multi-cultural week - we've enjoyed an African Story Workshop, performed the Huka with the Blue Moose Dance Group (see video below) and studied different cultures from around the world, identifying the things we have in common and the things that make us different and unique.
In English, as well as working on our class novel, we have focused on Remembrance. All the children have worked incredibly hard to produce some truly thought provoking and poignant work. I do hope you are able to attend our Remembrance Assembly on the 10th November, when the children will be sharing and presenting their work.
In Maths we have been studying shape, learning how to draw triangles and polygons, new shape vocabulary and using our reasoning skills to find missing angles. It's fractions next...
In topic we are nearing the end of our WW2 theme. This week we have learned how to cipher and decipher codes, studied the Enigma Machine and learned about the extremely clever people who worked at Bletchley Park. We have also studied propaganda, how it is used today and the important role that it played during the war. This culminated in the children producing their own posters, encouraging parents to evacuate their children to the countryside.

Well done Year 6, you have worked extremely hard – have a wonderful half-tem and a well-deserved rest.
13th October
This week we have continued to study our class novel 'Kensuke's Kingdom' and have produced some wonderful work, where we have been looking for evidence and writing excerpts from different perspectives.
In Maths, we have been revising multiplication and have now moved onto division. Following a difficult start with long division, and after some hard work and practice, we have started to make excellent progress.
In topic, we have continued to learn about evacuees, reflecting on what it would have felt like to be evacuated and what limited possessions we would take with us. We have also used our geography skills to try and locate where evacuees were evacuated to and where from. We have also learnt about rationing and what people were expected to live off in 1942. This culminated in us writing letters to Sir Winston Churchill, especially after we discovered what he was having for lunch!
Finally, our WW2 podcasts are stating to come together, we have produced some mp3 files that include jingles, sound effects, music and our voices. Hopefully you'll see some online soon…
On Wednesday, we held the Open Day and Year 6 were responsible for giving tours to prospective parents. It was super to see the children engaging with our visitors, talking with such pride about their school and answering questions confidently. We received some fantastic feedback from the visiting parents, who were suitably impressed by the enthusiasm and knowledge of their tour guides. Well done Year 6
30th September
In Year 6 this week, we have been solving addition and subtraction problems, working on missing number challenges and finding the difference between positive and negative numbers. We have also been studying Kensuke's Kingdom in English and have started preparing our newspaper reports on Michael's disappearance.
In topic we have continued to learn about World War 2, in particular we have been learning about evacuees and how it would be to live and survive during the Blitz. In ICT we have been learning how to create podcasts using Audacity and in PE working on our Jitter Bug dance and started playing hockey.
We have also had a visit from Marton Operatic Society, who taught us about Gilbert and Sullivan's play 'The Sorcerer'. Please see below to some pictures from the event.
Welcome to a new year in Year 6. Thanks to all the parents who attended the Meet the Teacher last week. Please use the 'About Year 6' link above to view the 'Welcome to Year 6' document, outlining our plans, expectations and information about this year.
We have had a great start to the new school year with all the children settling in well. They have demonstrated a great attitude and willingness to learn and they are looking to forward to their final year in primary school.
It's been a busy couple of weeks. Last week we spent time getting familiar with the new timetable and we talked about the exciting challenges ahead and the expectations of the children during the coming year.
This week we entered the dome, an immersive experience to help us learn about the Blitz in Liverpool. Today we enjoyed a WW2 day, where we were transported back to the 1940's. In the afternoon, with the help of Simon Moore, children learnt about the life of a WW2 solider through a selection of artefacts, memorabilia and Simon's in-depth knowledge. To top it all off they took part in a drill and completed some marching practise. A big thank you to Simon and to the parents and children for entering into the spirit of our WW2 day with such enthusiasm and some fantastic outfits.