Welcome to Yr6 2018/2019
Yr6 is taught by Mr Hoiles who is supported by Mrs Simpson.
Please click below to find out about the Yr6 curriculum.
Autumn Topic Plan coming soon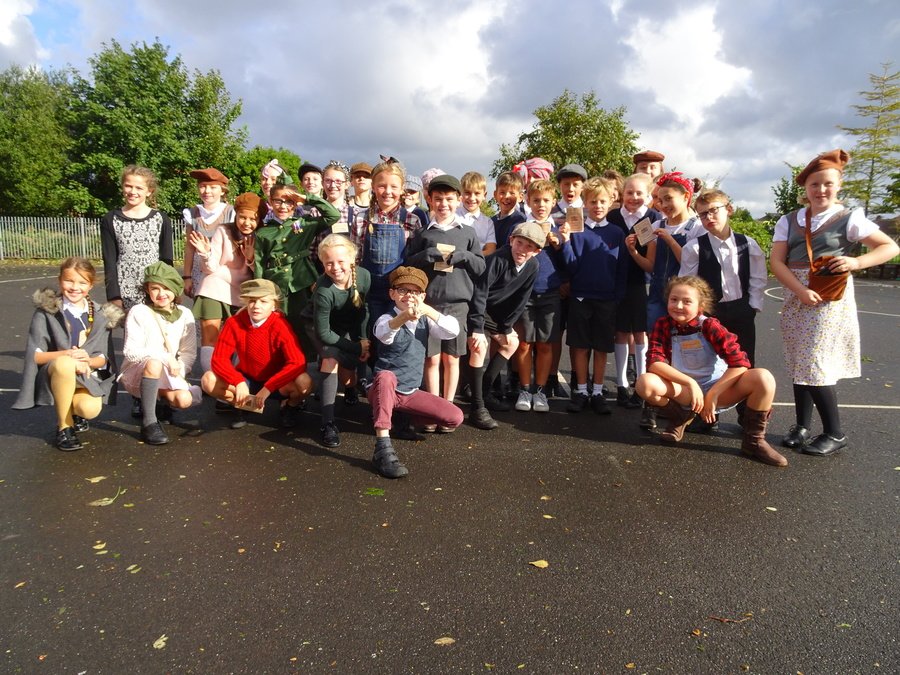 8th March 2019
In English we have been looking at identifying flashbacks in texts and today we completed a film review for our Big Write.
In maths we have studied reflection in the x and y axis and we have made really good progress with our algebra work.
On Thursday we all dressed up as characters from our favourite books for World Book Day. We shared a story or two with our buddies and looked at a few ourselves, the Poo Fairy being popular. See some pictures below…
Wednesday was a real treat as we had a wonderful morning going to see the Royal Liverpool Philharmonic Orchestra, with the highlight of us joining in with a 1000 strong choir. The children's behaviour was impeccable, and I was very proud of them. Well done Year 6!
1st March 2019
In English we have been looking at identifying flashbacks in movies. We have watched at a number of excerpts and short films and discussed how the director had initiated the flashback and led the viewer into the it.
In Maths we have been very busy, finding area of triangles and parallelograms, learning about volume and capacity, co-ordinates and how to translate shape.
In Science we have started our new topic of classification, we have been learning about the five kingdoms and discussing how we know if something is alive. Thankfully MRS NERG helped us out in remembering the key characteristics of living things.
As you are well aware, we are off to see the Royal Liverpool Philharmonic on Wednesday, please make sure your child arrives in school by 8:30 and has a packed lunch with them.
15th February 2019
Firstly an apology for not getting your children's Mock SATs papers to you. There are still a few that we want to go through with the children and we are aiming to get these to you the first week after half term.
This week in maths we covered area and perimeter problems and have also looked at pie charts. Furthermore we revised conversion of metric measures. In English we have been using figurative language, in particular identifying and writing with personification.
In PE, the weather has finally allowed us to get out on the field and play some 'proper' tag rugby and in Science we have completed our leaflets on blood. All being well I shall be able to upload a few examples after half term.
Well done Year 6! You have all worked really hard and deserve a week off. Enjoy.
8th February 2019
Well done to our stars of the week, Lucy and Martha and this months Booths Award winner Megan. Fantastic attitude, excellent work and great progress girls!
Wow, this week has flown by. In year 6 this week, we have completed our mock SATs. Well done to all the children who have worked so hard, and are now a lot less daunted by the prospect of SATs. Although this has taken up a significant amount of time, we have also managed to squeeze in plenty of work.
In English we have been looking at dialogue in narratives and how as authors we can use dialogue to convey character description and feelings. In maths we have learnt about circles and have started to interpret pie charts.
In science we have nearly completed our work on the circulatory system and have been undertaking experiments to see the effect of exercise has on our lungs and heart rates. See pictures below.
As we have now finished our work on the manipulation of digital images, check out our work on display in reception, we have moved on to spreadsheets.
Thanks to all the parents who were able to attend our 'Share Our Learning' afternoon. It was lovely to see the children talking through and being proud of their work.
18th January 2019
Well done to Harley and Emily - our Stars of the Week! Super work in maths and English, well done.
As another week flies by... Year 6 have created some wonderful setting descriptions inspired by a piece of music and in maths have been learning about proportion and scale factors.
In Science we have been learning about the lungs and how we breathe and in ICT continued our work on manipulating images for effect. This is starting to culminate towards a final piece, where the children will create an electronic piece of art and a montage of our home town.
11th January 2019
Happy New Year and welcome back!
Well done to Lois and Robert as our Stars of the Week. Great attitude and you are making wonderful progress!
Year 6 is back in business and we have enjoyed a really good week.
This week in English we started our work on narrative and have been looking at how authors describe settings. Furthermore, we have been learning how we can infer meaning from images and description and most importantly how to find evidence to support our points.
In maths we been learning about ratio and applying this knowledge to solve ratio problems, proportion next week.
Braving the elements on Thursday, we managed to get outside to start playing tag rugby. In ICT, we have been looking at how we can manipulate images for effect and finally, we started our new Science topic on the respiratory system and have been looking at the heart, oh and contrary to half of year 6, the fact that we do not have blue blood! Please may I ask that if you have any used kitchen towel tubes, could you please send them in. All will become clear soon, thanks.
15th December 2018
Stars of the Week
Angus and Lara - You have both worked really hard this week, especially in Maths. Well done.
As a another busy week flies by, we have sorting biographic information into sections and preparing questions to write a biography. To do this, we were luckily enough to interview Mrs Thomas about her life, career and plans for the future. A fascinating and revealing experience for the children (and myself) who really enjoyed asking her questions and learning so much about her, her achievements and childhood. Thank you Mrs Thomas and I still can't believe you met...
In maths we have been finding percentages of amounts and putting that into a real life context - getting ready for those January sales.
On Tuesday we were invited by KS1 to watch their nativity production which we all thoroughly enjoyed. Well done Infants. We also completed our evaluation on our DT projects and have continued our preparations for our church service for next Thursday. Hope to see many of you there!
Next week is Ansdell's Got Talent, Christmas Party and the KS2 Nativity. It is going to be busy!
7th December 2018
Stars of the Week
Megan and Clara - both of you are working so hard and producing some fantastic work. Keep it up!
With Christmas fast approaching, our practise for the nativity / church service has begun - with some promising performances from our shepherds.
In English, we have been honing our skills of note taking, with the objective to identify key information so that we can report on it later. In maths we have been ridiculously busy, we have been converting decimals to fractions to percentages to decimals, finding fractions of amounts and multiplying and dividing fractions.
In science, we are finalising our electric powered propeller cars. In doing this, the children have learnt about fans and propellers, also they have had to work really hard on designing and evaluating performance in order to get the best possible outcome.
Finally this week, we made WW2 inspired chocolate cake and crunches for enterprsie table at the Christmas fair. Thank you Mrs O'Sulivan and Mrs Simpson for all the hard work in getting us there.
23rd November 2018
This week in Year 6…
In English, we have continued our work on biographies, focusing on scanning a text for key information, identifying technical language and finding information about a person that is not in chronological order. In maths, we have cracked how to compare and order fractions.
In addition this week, we started our new science topic - electricity - and discovered that we are all conductors by making our own human circuit. We have been learning about properties of conductors and insulators, the various symbols needed in circuit diagrams, series and parallel circuits and the how light bulbs differ in these different circuits. We have also experimented with building circuits to produce some (rather noisy) sound effects. This culminated in some of the groups building their own transistor radio. See video below, I know it is not the best quality, but you may be able to pick out 'Video Killed the Radio Star'.
To finish off, we had a visit form Marton Operatic Society where the children actively learnt about the music of Gilbert and Sulivan.
16th November 2018
Another busy week in Year 6 draws to a close.
At the start of the week, along with our buddies, we visited the Cenotaph in St Annes to learn about the war Memorial. We spent time paying our respects, investigating the Cenotaph and all the tributes dotted around the park.
In maths we have been learning about order of operations, brackets and started fraction work, looking at factors and primes.
On Wednesday, we started to look at biographies, unpicking their key features. Later that day we attended a World War One workshop where the children got hands on with WW1 equipment and learnt about the life of a soldier in the trenches.
And if all that wasn't enough, last week our athletes celebrated a very respectable 3rd place at the Lytham St. Annes Schools meet in Blackpool. Yesterday we finished joint top in a speed stacking contest and today our footballers attended a competition at AFC Fylde while our dancers prepared their 'journey through music' dance routine - ready for Tuesday's dance off. Well done to you all. Now rest.
9th November 2018
In topic we are nearing the end of our WW2 theme. This week we have learned how to decipher codes and learned about the extremely clever people who worked at Bletchley Park. We have also studied propaganda, how it is used today and the important role that it played during the war. This culminated in the children producing their own posters encouraging people to wear a poppy. And finally, after a few technical hitches, we have finished our podcasts on WW2.
Today the children presented their Remembrance Assembly to the school, parents and grandparents. In the assembly they shared their thoughtful, reflective and moving work and performed their own version of 100 Years. Well done Year 6, a wonderful job!
Please see below to view just a selection of the wonderful poetry that has been written.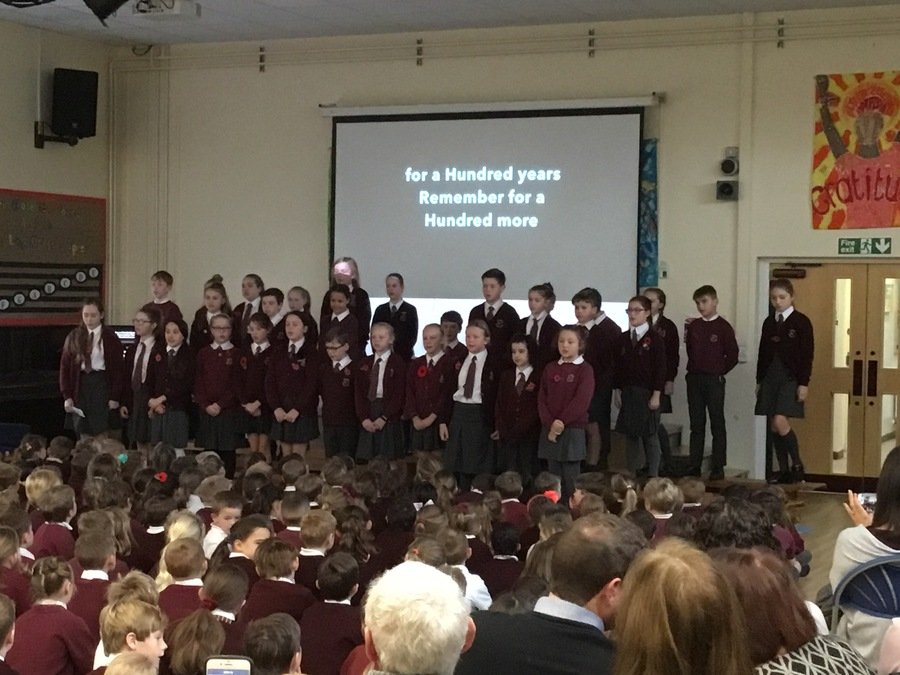 2nd November 2018
Booths Award - Oscar Gilbey. Well done Oscar, you have had such a fantastic start to Year 6 worked really hard and you should be proud of your achievements. You have a wonderful sense of humour and offer so much to our classroom.
Although a shorter week, we've crammed plenty in.
This week we have been learning about World War One and thinking about remembrance ready for our assembly next Friday. We have produced some wonderful poetry and today produced some superb work with letters from the Western Front. All we be revealed next week.
In maths we have been measuring angles and drawing irregular and regular shapes accurately. Angle reasoning next week!
Great work this week Year 6, keep it up!
19th October 2018
What a busy week.
On Monday we got to play Quidditch, which proved to be an interesting and fun activity as we all flew round the hall on imaginary broomsticks, chasing a Quaffle, two Bludgers, and a Golden Snitch.
In Maths, and after a difficult start, I think we have cracked long division. Although it took some hard work and plenty of practice, we have made excellent progress.
In English we completed our class novel, with mixed reaction to the bitter sweet ending.
Wednesday however, was the highlight of the week when we visited the The War Rooms in Liverpool. A fantastic trip, where we all learnt about the tactics and the people who masterminded the Battle of the Atlantic - key to the survival of our country during World War 2. As well as taking part in a code breaking workshop, the children toured the war rooms and offices. This proved to be an extraordinary opportunity to get hands-on with all the equipment and artefacts used and allow the children to immerse themselves in what it was like to work there during WW2.
A wonderful trip with wonderfully behaved children. Thank you Year 6!
Enjoy your well deserved break Year 6! Well done on a great first half-term.
12th October 2018
Over the past two school weeks, we have been lucky enough to visit the Science laboratories at AKS. The children had a number of scientific opportunities and challenges that included separating salt from rock salt and looking at the cell structure of an onion under a microscope.
5th October 2018
Stars of the Week - Well done Anya and Harley. Well done you two, well deserved.
This week in Maths we have been revising short and long multiplication. In English we have been looking at how to write from different perspectives and in Topic we have been learning about rationing and what people were expected to live off in WW2. This culminated in us writing letters to Sir Winston Churchill, especially after we discovered what he was having for lunch!
Also this week, some children got to visit AKS and take part in a Science afternoon. The children that went were impeccably behaved and deserved their chocolate biscuit treat. Those who didn't get to go this week will get the opportunity on Thursday. Pictures and information of what we got up to will be posted next week.
On Wednesday, we held our Open Day, with the Year 6 children being responsible for touring new prospective parents. It was fantastic to see the children engaging with our visitors, talking with such pride about their school, answering questions confidently oh and revealing my secret stash of polos. We received some wonderful feedback from the visiting parents, who were so impressed by the pride, enthusiasm and knowledge of their tour guides. Well done Year 6.
28th September
Booths Award - Magda. Thoroughly deserved - you have made a great start to year 6! You have an excellent attitude and approach to all your work, you go the extra mile and always do it with a smile. A wonderful asset to our classroom. Keep it up.
In Maths this week, we have been finding the difference between positive and negative numbers and have been looking at addition and subtraction problems. This included some missing number challenges that really got us thinking. Feel free to have a go yourself at one of the questions.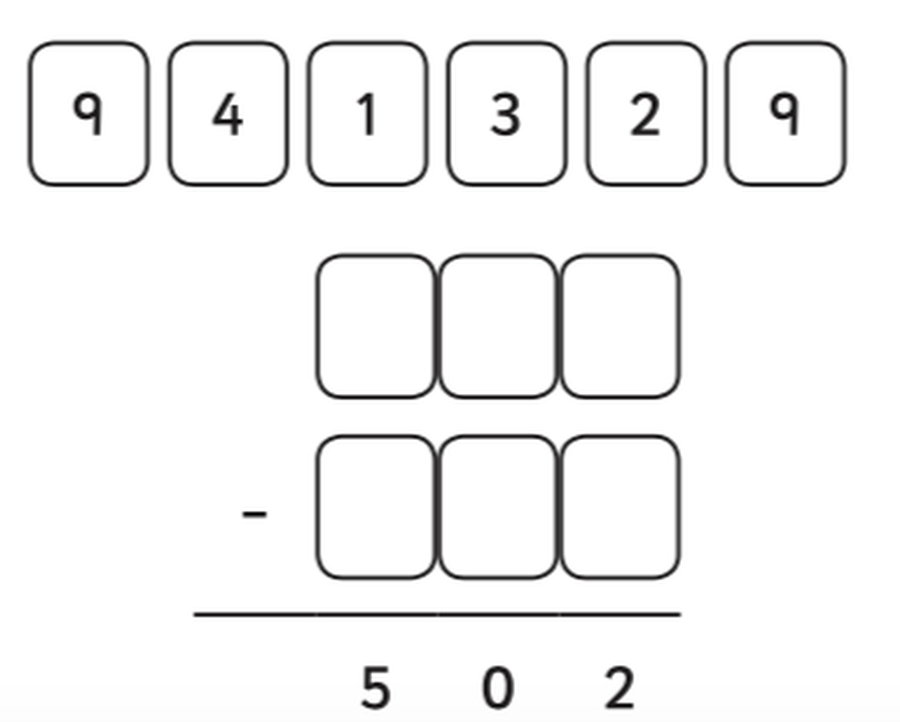 In English we continued reading our class novel, Kensuke's Kingdom and have started preparing our newspaper reports on Michael's disappearance.
In topic we have continued to learn about World War 2, in particular we have been learning about evacuees and how it would be to live and survive during the Blitz. In ICT we have been learning how to create podcasts using Audacity and in PE continued our Jitter Bug dance and playing hockey.
22nd September 2018
Stars of the Week: Charlotte and Louisa – well done you two, keep up the wonderful work.
This week 1941 visited our classroom! We were all transported back in time to experience what it would be like to be in a WW2 classroom. Thanks also to Simon Moore, who gave Year 6 the opportunity to learn about a 1941 solider and how hard it must have been, oh and what it would be like to be shouted at by a Sergeant Major. Well done to everyone, you all looked great.
The rest of the week has been quite normal. In Maths we have been learning how to round really big numbers and decimals and in English we are making excellent progress through our class novel, Kensuke's Kingdom. As you've probably guessed, in topic we are learning about WW2 and this week we have produced some wonderful timelines detailing the key events of the war.
7th September 2018
A big welcome to a new school year in Year 6!
The children have made a super start and have all settled in really well.
They have very much enjoyed the work we've done this week, focused on helping develop their perseverance and a growth mindset - I hope they've shared the pen trick with you.
Thanks to all the parents who attended the Meet the Teacher session today. For those who couldn't make it please use the 'Welcome to Year 6 - Information Pack' link to view our plans, expectations and find information about the year ahead.
20th July 2018
Can't quite believe the year is over. This group of children have been absolutely fantastic, I am so proud of what they all have achieved. Good luck year 6, thank you for being wonderful and I will genuinely miss you.
Great Tower Residential
Well done to everyone in Year 6 who went to Great Tower, it was wonderful to them all enjoying greater independence, developing friendships, team work and making great memories. We were also blessed with great weather for orienteering, the gauntlet, leap of faith, rock climbing, ab-sailing and canoeing, just a few of the exciting daytime challenges.