Ansdell Primary PTFA

Ansdell Primary PTFA is a voluntary organisation that aims to raise money for the school while also bringing parents and teachers together socially. This page is used to update parents on the future plans of the PTFA, to show where the funds we have raised have been spent or allocated, and to provide a diary of forthcoming events.

We couldn't do any of what we do without volunteers or support from parents, so a huge thank you to everyone who has contributed and helped us in the past. We hope to continue our fundraising success this year and to also make new friends along the way.

We have Charity status which will provide further opportunities to obtain funding.

Facebook:

To keep up to date with all PTFA activity please find us on Facebook!

2016/2017

we raised £8143.63.

The PTFA have used funds this year for:

New books for the Accelerated Reader programme

A Spring Clean of the Explorers area, painting and buying new equipment for the area.

A new sound system to for the school hall for enhanced plays, nativities and choir performances!

Play equipment for the infant playground walls

A contribution towards the cost of coaches for school trips.

A whole school skipping workshop

An inspirational visit from Ben Smith (401 marathon man)

Book bags for the new intake of Reception children.

We have earmarked further funds to spend on:

New equipment in the Junior playground

Email Us:

In 2015/16 we raised £9450.

Raised funds went towards:

Anti-Bullying week workshop

Storywriting/Poetry workshop

Architecture workshop

New Laptops

New percussion instruments

Stacking cups game

Non-fiction books

Contribution towards the cost of coaches for school trips

In 2014/15 we raised £8180.

The raised funds went towards:

Mini-beasts workshop

Motivational workshop

New iPads

Diary Dates:

Provisional 2017/18 events dates.

Friday 20th October 2017
School Disco


Friday 8th December 2017
Christmas Fair


Friday 9th February 2018
Non Uniform Day & Valentines Raffle


Friday 27th March 2017
Easter raffle/Bake sale


Friday 27th April 2017
Movie Night


Friday 29th June 2017
Summer Fair


TBC
Summer Party

2017-18 Events

2016-17 Events
Spring 2017
The PTFA funded an inspiring school visit from Ben Smith.
Ben (34) raised over £320,000 for anti-bullying charities Kidscape and Stonewall by completing 401 marathons in 401 days last year. Since completing his challenge Ben has toured primary and secondary schools throughout the UK to raise awareness of bullying.
When asked by one of the children if he remembered Lytham Hall parkrun, he said:"Lytham Hall parkrun was a deal breaker for me. It was the first run I attempted after my 10 day halt with injury. If I hadn't have got through that I wouldn't have been able to complete the challenge." He also recalled the particular windy conditions of the Blackpool leg of his journey!
Mrs Colligan was thrilled by the visit. She commented: "Ben's manner with the children was fantastic and the lively question and answer session showed how engaged they all were."
Inspired by the message of "anything is possible when you put your mind to it," the children promptly went out to attempt their own marathons at breaktime!
Spring 2017
Story Night. Thank you to everyone who cam along and the to readers and volunteers.!
July 2016
The Speedstacks Set has just arrived!! Looking forward to learning a new skill!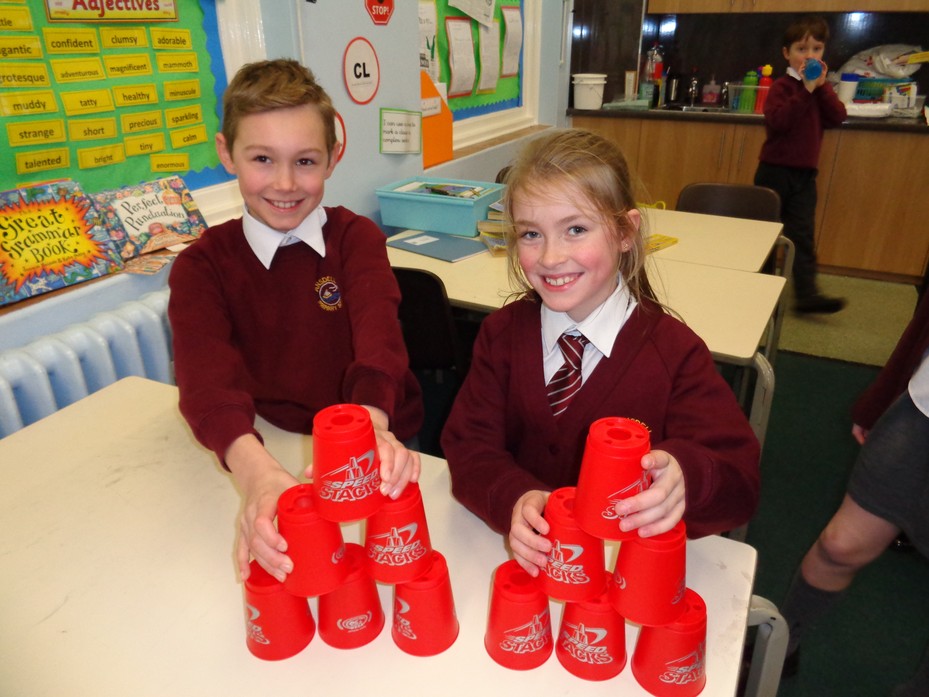 June 2016 Thank you to the PTFA for our lovely new musical instruments